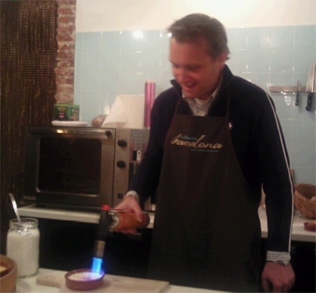 It was a sincere pleasure to participate in the BlogTrip09, sponsored by Turisme de Catalunya. My role on the blog trip was to have a great time, enjoy a remarkable Catalunya experience and then blog about it on Brilliant Tips from BrilliantTrips.com. Our group consisted of nine travel bloggers, including myself, as well as our hosts Leticia from Bloguzz and Amaia from Turisme de Catalunya.
One of the highlights of the trip was a walking tour around the famous La Boqueria market. While there, we followed our guide who explained how to best pick local and seasonal products. After making a few purchases, we walked to the Cook and Taste cooking school where we prepared a wonderful lunch with the fresh products we purchased at the market. I really enjoyed the cooking experience where I showcased my talents by separating the eggs for the crema catalana followed by some blow-torching of the crema catalana.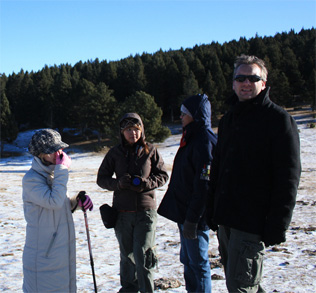 I also enjoyed the time spent in the mountains of Alt Bergueda. We started the day by heading out on a cold but uplifting trek through the snow covered mountains near the Rasos de Peguera ski station. After our trek, we made our way to the restaurant Els Roures in Catellar del Riu to warm up by the fire and enjoy a lunch for the ages. The food was amazing and included many traditional local specialties. Once lunch was finished, we made or way to Quads Olvan for a two hour quad excursion through the mountains which was loads of fun.
Then there were the Segways. I think Segways have a bad rap. For some strange reason, I always hear people bad mouthing Segway tours. Now, having tried a Segway, I can tell you first hand that they are a lot of fun. We took a guided Segway tour through Barcelona's Gothic quarter and along the seafront which I very much enjoyed. The Segways themselves are fairly easy to get the hang of, so I was zipping around the seafront in no time flat.
As is usually the case, one of the best parts of the trip was spending time with and getting to know the other travel bloggers. I really enjoyed spending time with each and every person in the group. A very special thank you to our lovely hosts Leticia and Amaia for ensuring we all had an amazing Catalunya experience.
Click here for a list of links related to the Catalunya Experience Blog Trip.
IMAGES VIA: europealacarte and catalunya_experience on flickr