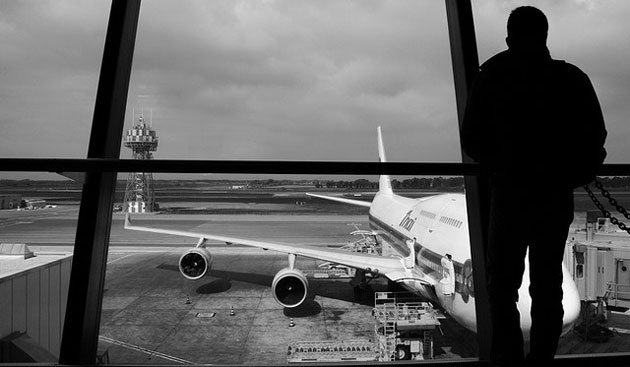 Last month, I spent three days at the Sydney Airport's International Terminal. I was flying "stand by" and there were no empty seats. During this time, I began to think about my past 40 years of flying stand by. As an airline employee and now as a retiree, I have been able to fly all over the world. The only catch has been that I have to wait until minutes before the aircraft door is shut to find out if I'll be called onto the plane or not. Hope and patience are requirements.
Flying stand by becomes a way of life for people like me. You prepare yourself with books, crossword puzzles and a change of underwear. You limit yourself to "carry on." A good stand by traveler always has a Plan A, B and can't forget a C – just in case. My older son (a beneficiary of his father's stand by perks) once started off on a trip destined for Australia and ended up using his "Plan C." Plan C brought him to Thailand where he had the time of his life. You could say flexibility is also a requirement in the stand by world.
Throughout my life, the ability to fly stand by has been a treasured benefit. It has allowed my sons to attend their cousins' birthday parties and to go camping with their aunt and uncle regularly despite the fact they all live 3000 miles away. On a more educational note, it is one thing for your son or daughter to read about history, it is yet another thing to take them to the country they are studying. A chapter on Napoleon was enhanced by a visit to his last battle site in Waterloo. In the 70s, we visited London to watch Queen Elizabeth II celebrate her Silver Jubilee. You just have to keep your fingers crossed that there will be open seats when you are ready to head home in time for work and school. It seems that a bit of luck is yet another stand by requirement.
Traveling stand by was easier before Mileage Plus and other rewards programs came into being. Now folks use their points for free trips and upgrades. All the frequent business travelers use these points to head off to sunny vacation destinations. Darn it – that is where I wanted to go! Still, I can increase my chances of getting on a flight as a stand by passenger by heeding the following observations I have made throughout the years:
A canceled flight usually means you should return home or to your hotel as those "full fare" passengers are now going to take any empty seats that were once available throughout the rest of the day.
A delayed flight with connecting passengers can throw off later departures you might be interested in. However, the flight they have missed now opens itself up for "stand bys".
Always try for the first flight of the day as folks tend to oversleep, get stuck in traffic or get held up by security.
In today's world, the days of stand bys flying first class are few and far between. What a luxury though when you are afforded first! A stand by passenger tends to be happy to be assigned "economy plus" with those precious extra five inches of leg room. An exit row seat is a blessing.
It has been a long journey since the 70s when folks dressed in suits and ties to today when passengers wear flip flops and soiled jeans. Airline travel has certainly changed. Today, I'm retired. Who cares if I sit at an airport for a few days? I can fly stand by and visit my grandchildren whenever I want, then when they cry or wet themselves, I can fly home. So, my world didn't come to an end because I sat at Sydney Airport for three days. This time, flying stand by enabled me to play in the waves at Manly Beach and to have a cheeseburger at The Glenmore Hotel's rooftop bar which overlooks the Opera House.
…and on that third day, I got the last seat on the aircraft – in business class. All was good.

A very special thank you to my oldest traveling companion, my Dad, for this guest article. -Rich
IMAGE VIA: WTL photos