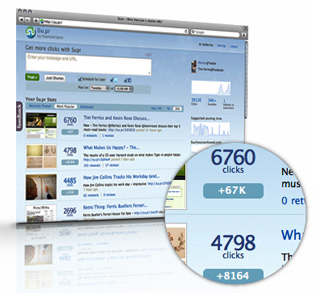 As the editor of Brilliant Tips from BrilliantTrips.com, I have found that the best way to shorten your URLs for Twitter and increase traffic to your blog is to use Su.pr, the URL shortening service by Stumbleupon. Expanding upon Stumbleupon's primary mission of discovery, Su.pr not only shortens your URLs for Twitter, but also automatically adds them into Stumbleupon's main database. This greatly increases the opportunity your articles have of being discovered by a wider audience.
When someone clicks on your shortened link, that person will see that Su.pr has added the Stumbleupon web toolbar to the top of the page. The addition of the toolbar makes it extremely easy for your audience to give your URL a thumbs-up. On the settings page, you will also find an option to add a sidebar that would promote your domain. If you decide to enter your domain as a promoted website, your domain's best content will be promoted on the sidebar loaded in the browser each time someone clicks on your Su.pr link. I do not use the promoted website sidebar as it can be a bit much for the reader and I have heard a few readers complain about it.
As a great, added feature, Su.pr allows you to schedule your posts for later. Just be careful when you choose your posting time as all times are represented in Pacific Standard Time. This can come as a bit of a surprise if you are not careful.  Another great feature is that, unlike other services, all statistics are real time and immediately displayed in your Su.pr counter. Metrics include the number of clicks for each Su.pr URL, the number of Stumbles and reviews from StumbleUpon users, the number of retweets via Twitter and a breakdown of referrers for the traffic received.
IMAGE VIA: Su.pr