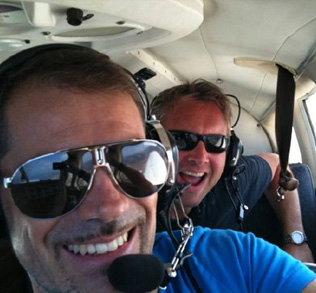 As part of this past week's #BlogTripFIB, I had the amazing opportunity to fly in a small plane over the city of Benicassim (one hour north of Valencia, Spain) and take some aerial photos with video blogger extraordinaire Diego Pons of Viajando con Diego. As a self-proclaimed airplane geek, I was thrilled when I received a call from @joantxo offering me the chance to snap some birds-eye-view shots of Benicassim and the FIB festival grounds.
Upon my arrival at the tiny Aeroport Castello (home of the Aeroclub de Castellon), @viajarcondiego, @velvetescape, @insidetravellab and I were greeted by our very friendly pilot. Our pilot quickly directed Diego into the small hangar to assist in pushing the tiny, three seat plane onto the tarmac. After an initial briefing from our pilot, I hopped in the back seat, buckled myself in, and put on my head set. Then, before I knew it, we were on our way. As we taxied to the runway, with the pilot's door open to keep us cool on a stifling hot summer day in Spain, I broke out my camera and my iPhone and started shooting photos as fast as I could.
After taking off to the west, we made a quick right hand turn and flew over the packed beach and the city of Benicassim before making a few passes over the grounds where the FIB Heineken 2010 was taking place. After capturing all the shots we could of the festival grounds, we made our way back to the coastline, flying north along the beach over Orpesa to Marina d' Or. As we made our turn to head back, with a little encouragement from Diego, our pilot made a few super sharp turns that left my stomach a few yards back.
The flight experience finished with a smooth landing. As we we taxied back to the hangar where @velvetescape and @insidetravelab were waiting for their turn, I snapped as many final photos as I could. Overall, it was an unbelievable experience for which I feel very fortunate to have been a part of.
This article was originally posted at Brilliant Tips From BrilliantTrips.com.