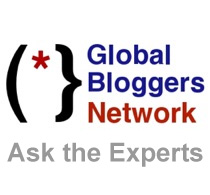 Each and every month, as an expert panelist for the Global Bloggers Network (GBN), I share my insight with other bloggers who submit their own specific questions to the panel.
The Global Bloggers Network (GBN) is designed as an interactive exchange of ideas and resources to support the business side of independent and corporate blogs. Members have the opportunity to take part in webinars and ask questions of and get ideas from a panel of experts as well as from each other. Topics relate to any possible aspect of a blog from the technical side to marketing opportunities.
When choosing a WordPress theme, what important issues should I consider?
I would make sure that whichever theme you choose supports the objectives of the site (is it a personal blog, a business, etc.?). WordPress is a very powerful publishing platform that offers all kinds of plug-in solutions for everything from shopping carts to plug-ins that help execute PHP code. Make sure your theme is capable of doing everything you want it to do and ensure that support is available, because you will need it.
What's the importance of a RSS Feed? Many friends recommend Google FeedBurner. Why is it recommended and are there better alternatives? What's the importance of building up a subscriber list?
Burning an RSS Feed for your blog is important if you publish regular updates as it makes it easier for readers to keep track of sites they're interested in without having to remember to check each site manually. Readers simply subscribe to your feed and aggregate all their information in one place to be read when they're ready. I'm really not aware of any alternative to FeedBurner or why you'd even need one.
I'm just starting to blog. I realize the importance of guest posts but my blog is still small and I'm afraid to ask. For someone who's just starting out, what are the best ways to request guest posts?
Try coming up with an interesting angle or a regular series that is interesting enough that other bloggers would want to add their take to it.
I'm a real beginner when it comes to WP. I'm trying to figure out many things for myself but it takes a lot of time. Where or how can I find people who can help me with technical issues?
Learning takes time, but there are loads of forums out there that offer support. I recently had a question regarding changing the code for a plug-in and I found that the creator of the plug-in had a forum. He answered my question within 12 hours.
What are the best practices for Facebook fan pages and blog marketing?
I get all my Facebook insight from marismith.com. As far as the best practice for blog marketing…
Is leaving comments on other blogs and in forums a good way to promote my blog? What's the best use of my marketing time?
Sure, as long as your message is relevant. I'd say the best way to use your marketing time is to a few things and try and do them well.
If I host my photos on flickr or Smugmug, is there any way to get link juice to my blog.
The advantage of hosting your images on Flickr is that Flickr is constantly spidered by Google, et al. Your Flickr hosted images that are linked to your blog will eventually appear in the organic search engine results. In order to add images to your blog directly from Flickr, do the following. When given the choice to post image files, you're given the choice "from your computer" or "from the web." Choose "from the web" and add the URL.