When visiting Valencia, those who make the short journey south of the city center to La Albufera Natural Park will not only find themselves in a nature lover's paradise, but they will also find themselves in foodie heaven. The largest natural park in Europe just so happens to be the birthplace of the popular rice dish known as paella.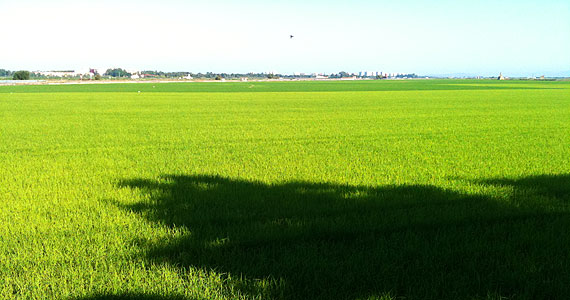 One of the most well known dishes in Spain, paella, is a staple of the Valencian diet and a typical Sunday family meal. This past week, I had the very special opportunity to have traditional Sunday paella with the rest of the #BlogTripF1 crew at La Matandeta which is located smack dab in the middle of the rice fields of La Albufera.

From the moment I walked in to charming La Matandeta, a  remodeled family farm, I immediately sensed that I was in a privileged place. Upon entering and admiring the colorful and warm decor, Joantxo, my friend and host, waved me over to a back door. As I stepped outside, he led me down a short smokey path to a small shelter where the paella was being cooked.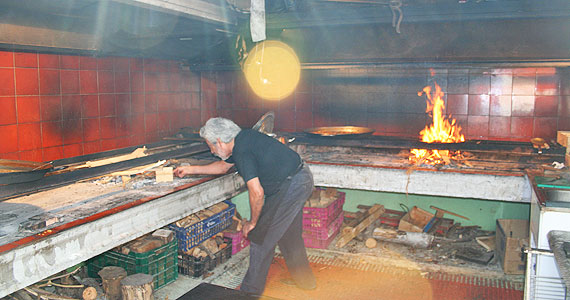 As I peeked in, I witnessed a grey haired man hard at work making paella over an open wood fire. Carefully organizing a pile of timber to start a second fire, he borrowed a few pieces of the smoldering wood from the existing fire to set the new one ablaze. Once the fire was going, he grabbed a huge paella pan which he proceeded to set down on the metal grate over the fire. Already filled with rice and other goodies, he began to slowly mix in a large cup of broth and stir the paella over the open flames.

According to Annie Bennett (part of the #BlogTripF1 crew), paella is all about the rice and the broth. She explained to me at one point during the trip that paella is made with short-grain white rice that bursts open and soaks up all the broth. While there are various types of paella that include everything from chicken, rabbit or ham to fish, shrimp, squid or snails to butter beans or artichokes, at the end of the day, these additions are all just decoration. An authentic Valencian paella is truly all about the rice and the broth.

On Sundays in Valencia, families and friends will often gather to enjoy each other's company and share stories over a dish of paella. I shared in this fine tradition of enjoying Sunday paella last Sunday while sitting with friends both new and old in the middle of the La Albufera wetlands.