I recently joined nine other travel bloggers as part of the #InPyrenees blogtrip sponsored by the Girona Tourism Board to get the real story about the Girona Pyrenees.
Starting in Cerdanya (about a two-hour drive from Barcelona, Spain), our group of travel bloggers spent seven days traveling along the Pyrenees mountains until we reached the sea. Our brilliant hosts, Jaume Marin (@jaumemarin) and his team, created a blogtip that showcased some of the region's best adventure activities, most interesting people and, of course, most delectable Catalonian cuisine.
Angle
Based on the fact that my travel blog is visited most frequently by females who range in age from 35-44, have no children and are graduate school educated, I wanted to focus on gathering information on accessible adventure activities while keeping an eye out for any luxurious, unique or romantic spots along the way.
The Activities
Over the span of one week, our group of travel bloggers had the opportunity to see the Pyrenees from the air, from the sea and on foot via almost every imaginable mode of transport from a small airplane to an offroad Segway. As Katie Knorovsky (@TravKatieK) of National Geographic Traveler pointed out at one point during the trip, "So far #inPyrenees we've traveled by small plane, hot air balloon, horseback, zip train, bicycle, horse carriage…and today we add kayak!"
The big highlight for me was the hot air balloon ride through the Garrotxa Volcanic Zone Natural Park. From the moment we lifted off to the moment we gently touched back down, we did not feel a single bump, nor turbulence. We were simply floating with the wind.
The biggest surprise for me during the trip was how much I enjoyed canyoning down the Freser River. Donning full wetsuits with hoods and helmets, our group had a blast leaping, sliding and sloshing along as we maneuvered our way down the chilly river.

The Food
One thing that can be said for certain is that none of the travel bloggers on the trip went hungry. We ate and ate and ate some more. Catalonia is world-renowned for its cuisine and, after this trip, I can confidently attest to why that is.
From our first meal at Cal Coffa in Llivia, which included only fresh products from the local area, to our final meal at K la Gina in Garriguella, which included only fresh products from the local area, our group got a true sense of the region's gastronomy.
For me, foodie highlights included experiencing Fabian Martin's unique Taller Pizza and Cal Coffa in Llivia, hunting for mushrooms with chef Xesc followed by cooking our finds at Fonda Xesc, having a picnic alfresco featuring typical volcanic cuisine in the Beech Tree forest of Gorratxa, eating dinner at Los Cols in Olot and, of course, dining at Cal Sastre in Santa Pau.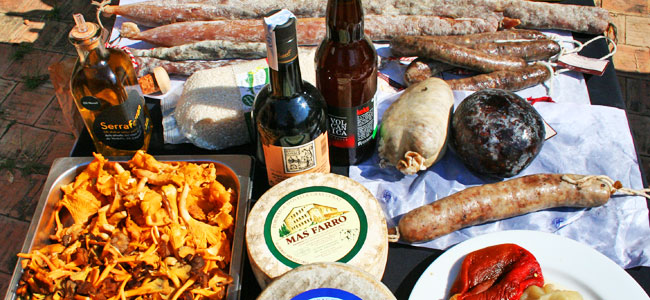 The Accommodation
During the course of our trip we stayed at four different places. While the accommodations were all fine and nice, we had little time to fully experience them. That was the case until we stayed somewhere with no signal for two nights.
Located very close to the Santa Margarita volcano, we checked into the bungalows at Camping Lava to find no signal whatsoever. I could not believe that the blogtrip would be offline. What are a group of travel bloggers supposed to do if they cannot publish posts, tweet, send out images and do all things bloggers do? Well, you will never believe it. Everyone put their laptops and mobile devices away, grabbed a beverage of their choice, gathered around the picnic table at one of the bungalows and simply talked. We talked without interruption. We experience good, old-fashioned group bonding which resulted in this already tight group growing even stronger.
The People
The team from the Girona Tourist Board included Jaume Marin, Dunia Coromina, AlbertDuch and Olga Ferres. With help from Arantxa Ros, the team made a special effort to present the travel bloggers with opportunities to meet some of the people whose personalities are intertwined with the Pyrenees.
Some of the exceptional people we met included: Fabian Martin, a real character who's a former boxer turned pizza chef; Kilian Jornet (@kilianj), a world famous skyrunner who basically runs marathons through the rugged mountains of the Pyrenees and beyond; Joan Cano, the Catalonian archery champion who taught me how shoot a bow and arrow; chef Xesc who took us to the forest to collect mushrooms he would later cook for us; and of course the owner of Cal Sastre in Santa Pau who insisted on making us his special gin and tonics. These are the personalities I will now think of when I think of the Pyrenees.
As for our group of travel bloggers, I can say that I would travel with any one of them again at anytime. As for myself, I felt more like I was traveling with a group of friends than a group attending a media trip. Our group of travel bloggers included Abigail King (@abigailking), Annie Bennett (@anniebennett), Iain Mallory (@MalloryOnTravel), Julie Schwietert Collazo (@collazoprojects), Leah Hajner (@vanilleah), Nellie Huang (@wildjunket), Katie Knorovsky (@TravKatieK), Yvonne Zagermann (@JustTravelous) and myself.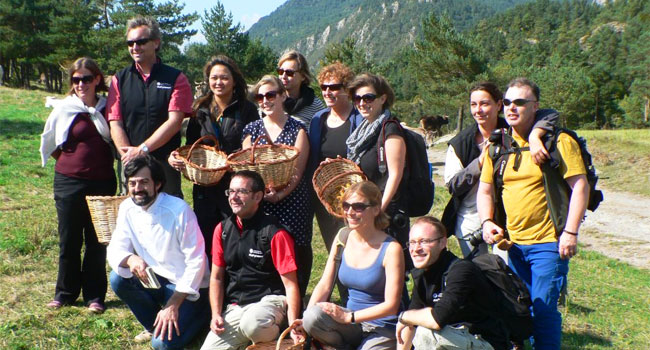 Images: Annie Bennett, Nellie Huang, Rich Whitaker, Dunia Coromina