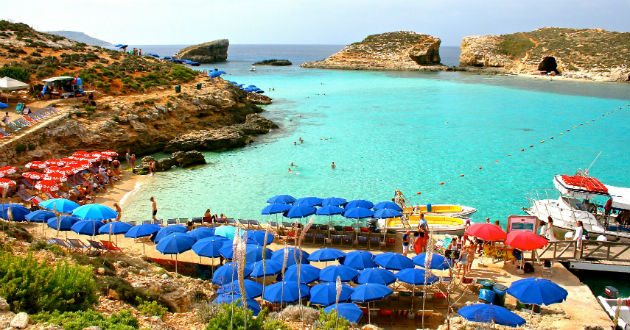 Found on the island of Comino, between Malta and Gozo, the Blue Lagoon is one of Malta's most intriguing natural attractions. Easily reached by boat from either Malta's north shore or Gozo's main harbor of Mgarr, the Blue Lagoon's picture perfect, crystal clear turquoise waters are simply breathtaking.
While there is a single hotel on Comino, most people (including myself) just visit for the day from Gozo. Boats are available throughout the day from Gozo for 8 EUR round trip or for 12 EUR round trip plus a tour of the caves found near the Blue Lagoon.
With little shade, other than the umbrellas and beach chairs that are available to rent for 6 EUR, visitors will waste little time before jumping into the water for a leisurely swim or snorkel.
Save up to 80% on Hotels in St Julians, Malta and Find Amazing Discounts on all Hotels in Malta and Hotels in Gozo.
There are a few little kiosks that offer cold drinks and food along with snorkel gear, kayaks and similar water gear near the area roped off for safe swimming by the boat dock.
Visitors can easily swim to the small island of Cominotto which is located across the lagoon. Once there, you can relax on the small, white sand beach and  explore a little cave. It can be a bit quieter here than the Comino side. While we saw people jumping of a very high cliff on Cominotto, it is extremely dangerous and a few local people mentioned that many people have died as a result of jumping.
As the day progressed, the Blue Lagoon area got really packed with sun seekers. I would recommended arriving early, especially during the summer months.
All images are my own
The Best Price Guaranteed on the Hilton Hotel Malta St Julians located on the fashionable Portomaso waterfront with over 900 Verified Reviews