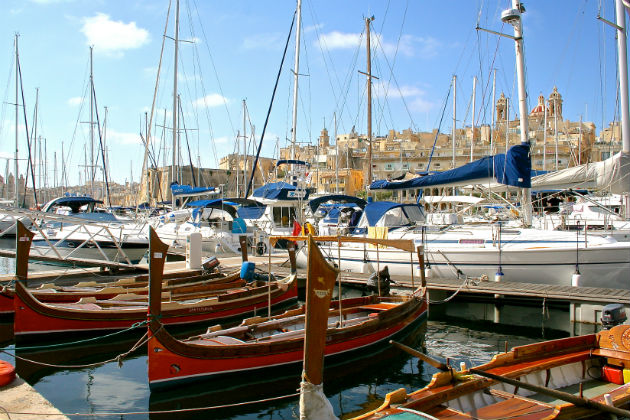 Malta's massively fortified Grand Harbor, once home to the Knights of St. John and with a legacy dating back to Phoenician times, serves as the backdrop to Malta's fascinating history. Traditional, colorful fishing boats, water taxis and mega yachts make up an alluring mix of old and new amidst historical and architectural treasures.
Save up to 80% on Hotels in Valletta, Malta and Find Amazing Discounts on all Hotels in Malta and Hotels in Gozo.
With majestic views of the Three Cities (Vittoriosa, Senglea and Cospicua) and Fort St. Angelo, the Upper Barrakka Gardens in Valletta is a peaceful retreat that boasts sprawling panoramic views of the Grand Harbor.
Visitors can hire a water taxi (which run from 5 EUR to 20 EUR depending on your route) for a unique perspective from the water. The are also a number of harbor cruises available for tourists.
My favorite way to view the Grand Harbor was to simply wander along the marina in Vittoriosa and down the streets of the adjacent Senglea as it offered an up close and in-person view of life on Malta's Grand Harbor.
All images are my own
The Best Price Guaranteed on the Hotel Phoenicia Malta Valletta, an elegant hotel offering guests an unparalleled experience in comfort, service and luxury with over 1,600 Verified Reviews.