Far away from the buzzing taxi boats and laid back, yet bustling base of Bocas Town, at the opposite end of Isla Colon in Panama's Bocas del Toro Archipelago, lies a beach unlike any other. It is known as Playa Estrella or Starfish Beach.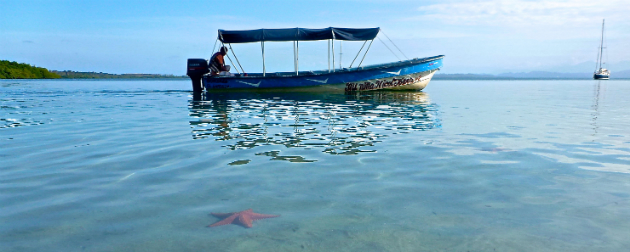 Visitors to Starfish Beach may have to go the extra mile to experience something truly special, but that little bit of extra effort is well worth the reward.
How to get there
To get to Starfish Beach from Bocas Town, you will first need to make your way to Bocas del Drago on the opposite side of the island. A taxi will run you about $35 each way (arrange for a pick up and pay on the return) and scooters are available for rent at a rate of about $35 for a half day. While bikes are also readily available for rent, it can make for a long and hilly ride. A bus leaves from the central square every couple of hours or so and costs approximately $2 or $3 each way. Ask for a timetable from the bus driver so you can plan your return trip accordingly. A water taxi driver quoted me $40 per person for a round trip from Bocas Town. I rented a 4×4 golf cart for half of the day that held up to four passengers for $45. The 45 minute drive through the island's interior was good fun in my gas powered ride which had the feel of a bouncy house and the sound of a go cart.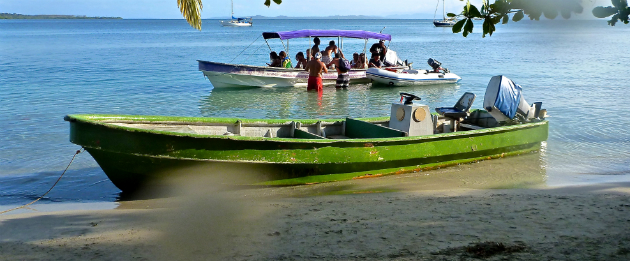 Upon arriving in Bocas del Drago, you can either hire a water taxi to Starfish Beach for $1 each way, per person, or you can walk there simply by following the sandy path along the beach. I walked both ways which, each way, turned out to be a nice, 15 minute stroll along the water. You will know you have arrived when you start to see a few small tables of souvenirs dotted amongst a handful of simple structured, open air restaurants/bars serving frozen drinks, beer and seafood.

Finding the starfish
On the day of my visit, it seemed as if the further down the beach I explored, the more prevalent the starfish became. The best display of starfish was in a small cove just after the last restaurant (the one with the pool table) and a bunch of bright yellow lounge chairs resembling bananas.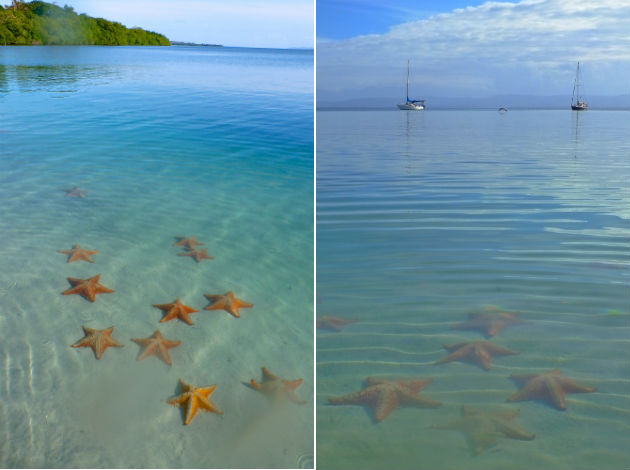 While it is tempting to pick up the starfish, there are signs posted everywhere cautioning not to do so.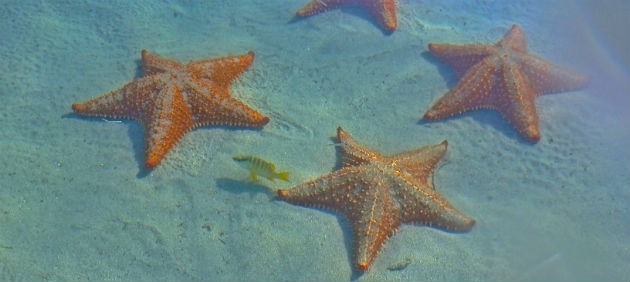 I dedicated an afternoon to traveling to Starfish Beach from Bocas Town and found things to be a bit rushed. If I had the day to do over again, I would plan for an earlier start in order to enjoy more time for swimming, snorkelling, relaxing and ceviche.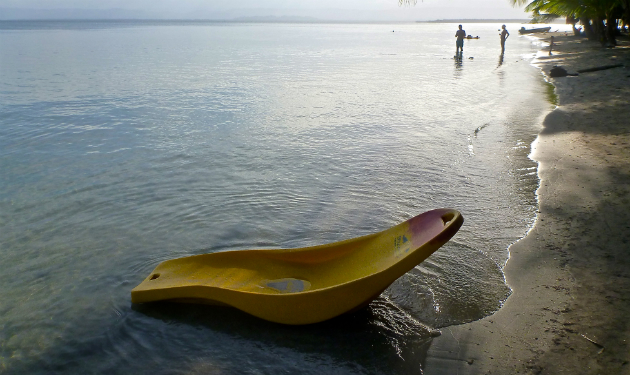 All images are my own.