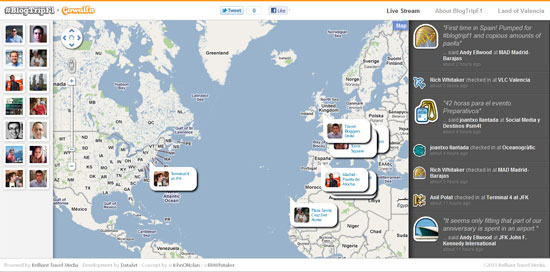 DataArt, a custom software development firm that builds advanced solutions for select industries, announced completion of a Destination Storytelling Tool for Brilliant Travel Media. The Social Web Application allows mapping, following and combining Travel Blogger's Gowalla real-time activities and check-ins around hosted Blog Trips to featured destinations. The application will debut at the European Formula 1 Gran Prix in Valencia, Spain June 24-25, 2011.
"From our initial collaboration on Influencers In Travel last year, DataArt has proven to deliver quality solutions in a timely manner, with full understanding of the commercial and technical aspects behind the business," said Rich Whitaker, President of Brilliant Travel Media.  "When we approached DataArt with the idea of a 'Destination Storytelling Tool' the team was as excited as we were to come up with an innovative way to allow fans to engage."
DataArt developed a comprehensive solution which employs Gowalla API, Google maps and its own business logic to display real-time social media activities of users around a destination, helping businesses to share their real-time activities within their niche markets.
"Brilliant Travel Media, with DataArt's help, continues to innovate in online marketing using social media," said Greg Abbott, Senior VP of Travel & Hospitality at DataArt.  "The latest effort brings sharing real-time activities within targeted niche markets to a new level. We look forward to living vicariously through the eyes of participating travel bloggers as they travel to exciting events like Formula1."